This year's last weekly roundup! Check all the additions from PocketCluster Index !
Apache foundation recently announces Reef as an incubating project. Reef aims to dramatically simplify big data system's resource management.
Services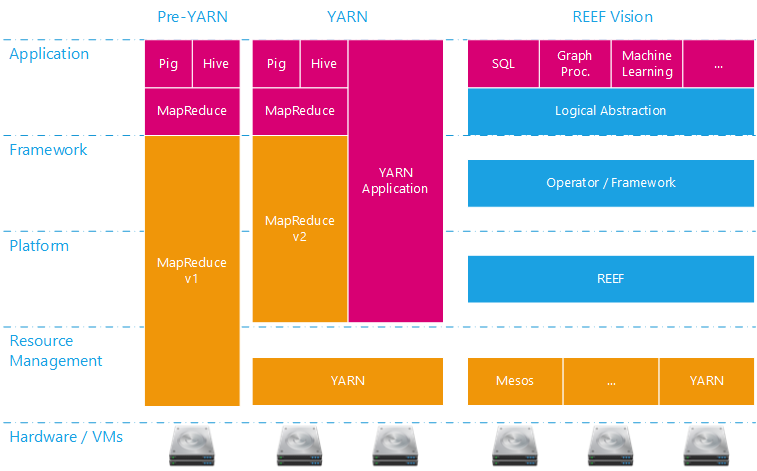 REEF, the Retainable Evaluator Execution Framework, is to simplify and unify the lower layers of big data systems on modern resource managers
Column oriented distributed data store ideal for powering interactive applications
Tranquility helps you send real-time event streams to Druid and handles partitioning, replication, service discovery, and schema rollover, seamlessly and without downtime
Distributed. Columnar. Versioned. Streaming. SQL
Deep Learning API and Server in C++11 with Python bindings and support for Caffe
Frameworks
Abstract Algebra for Scala
Calliope provides a bridge between Cassandra and Spark framework allowing you to create those magical, realtime bigdata apps with ease
HDFS compatible Distributed Filesystem backed Cassandra
Unified interface for local and distributed ndarrays
Lightning-Fast Deep Learning on Spark
Easy access to big things. Library for Apache Spark extending and improving its capabilities
Decision CEP engine is a Complex Event Processing platform built on Spark Streaming.
Real Time Aggregation based on Spark Streaming
Connecting Apache Spark with different data stores
Kite is a set of libraries, tools, examples, and documentation focused on making it easier to build systems on top of the Hadoop ecosystem.
mrjob is a Python 2.6+ package that helps you write and run Hadoop Streaming jobs
Toolsets
Change data capture from PostgreSQL into Kafka
Data collection and processing made easy.
Use SQL to query Elasticsearch
---
You can find a lot more tools, frameworks and libraries at PocketCluster Index. Go check it out! Looking into adding your repo? tweet to @stkim1!